3D Real Estate Photography and Virtual Tours (Service No Longer Available)
If you are looking for some the best 3D Real Estate Photography and 360 Virtual Tours in South Florida you have come to the best place- ah360 Photography.
This Service Is No Longer Available.
Our photos and videos are made shareable to any device or any platform, ANYWHERE!  We do this by cleverly turning our 360 Photos and 360 Videos into standard viewing videos.  Once you have a regular video file you can Text, Tweet, Post to Instagram, or send anywhere you would like frankly.  For more information on this process and how all of the platforms are images are shared, please contact us at your convenience. 
Why AH360 Virtual Tour Real Estate Photography and Video?
To the left is an example of a 360 VR Video placed on YouTube as a standard view video.  And no, you probably won't find anyone filming in 360 going 60mph on a boat out in the ocean, but that is our dedication to being bold and delivering you something you just won't get anywhere else.
Google Trusted Photographer
AH360 Photography has earned the proud distinction of becoming a Google Trusted Photographer which means we have taken and published a required number of photos along with a required quality of photos to Google Street View.  As of early 2019 we have 700k views on Google for our 360 photos and Virtual Tours.
How Do You Take A 360 Degree Photo
When it comes to shooting a 360-degree photo or taking pictures that you plan on stitching into a 3D Virtual Tour, you don't want to make the mistake of assuming its a bunch of photos a computer puts together and you're done.  Additionally, you also don't want to make the mistake of thinking any photographer is up to the task.  If you are serious about your 360 photos or what you intend to use them for, you should call someone with experience like ah360 Photography.    
Although it is true that there are now many 360 consumer/prosumer cameras on the market such as:
.. These cameras are still not anywhere near capable of creating the types of professional high-resolution images that a DSLR, taking 6 or more photos stitched together, can produce.   Reason being:  Sensor size.  These cameras are fitted with 2 to as many as 8 (Or More) sensors to capture their surroundings with one shot.  To fit all of these sensors, they have to be significantly smaller than a camera designed to only house 1, and smaller sensors mean less light and fewer details in each image.  
Yes, there are cameras with large DSLR sensors in them, and if you have 10k-30k you can get them.  However, most photographers can't afford cameras that size that have only one purpose: 360.  
360 Video Is A Different Story
One edge I will give to the 360 cameras, which may or may not benefit your business or the subject of your photo shoot, is in capturing 360 videos.  A DSLR simply can't do that alone and today's modern 360 cameras are producing some good quality, even at the consumer/prosumer level.  My favorite smaller 360 cameras being the YI 360 VR, second to GoPro Fusion. 
One edge I will give to the 360 cameras, which may or may not benefit your business or the subject of your photo shoot, is in capturing 360 videos.  A DSLR simply can't do that alone and today's modern 360 cameras are producing some good quality, even at the consumer/prosumer level.  My favorite smaller 360 cameras being the YI 360 VR, second to GoPro Fusion. 
3D vs 360 Photo (What's The Difference)
3D and 360 photos/videos are actually two separate things.  3D is created using multiple cameras so as to provide depth as your own eyes (2) would perceive a scene.  360 is merely the ability to "Spin" around inside of a panoramic image from 0 to 360 degrees.  
DSLR vs Modern 360 Cameras (2018)
One area where the differences stand out greatly is in the shadows.  Below I will use a standard photo I shot in a restaurant.  To represent shadows you would be looking underneath the tables and behind some of the chairs. 
On a 360 camera, these areas might appear darker, to the point where you start to lose so much detail that the image doesn't appear how the scene would to the naked eye.  This takes the viewer out of an immersive state, or essentially, it removes the viewers ability to "Feel as if they are there". 
In 3D or 360 photos, if you can't immerse someone in your images, you will lose the viewer and with it any value that creating the photo could ever bring you.
Another area where a DSLR stands out for 360 Photos is in the quality and detail, especially farther away.  Here at ah360 we use a 46 megapixel Nikon Full Frame Sensor.  Stitched together the Images created by one of our photos is an effective 200 megapixels (Give or take).  We, of course, render those down, but when looking at a professional 360 camera like the Insta 360 pro, they only shoot at around 8 k which is 28 megapixels.  More Pixels = More Detail.
Matterport (Alternative?)
The one standout for many businesses, and you probably have encountered the product because they spend a TON on marketing and advertising, is Matterport.
Matterport is a big box looking camera that has but one use:  Virtual Tours.  The biggest problem with Matterport for me is that neither myself or the client own the images!
You Do Not Own Your Images On Matterport
Because AH360 or our clients wouldn't own the images created with a Matterport Camera, we can't then take these images and put them on Facebook, YouTube, Instagram, or create clips you can send to clients/customers on your phone.  In other words, we can't make it possible for you to reach your clients where they are, they have to come to you or us, and that's simply not what we consider delivering full potential. 
If you do use Matterport or are considering an agency that does, anything shot on those devices is put into their cloud where the Matterport software will determine when and where you can share the images you paid for!
Proper Equipment For 360 Virtual Tours
Like anything in Professional Photography, if you are doing it right you are well equipped.  For a proper 360 a photographer should have:
Fisheye Lens
Tripod
Panoramic head (AKA Pano Head)
The lenses used "Could" be wide angle if a photographer so chooses, or has limited equipment, however, this will require more shooting and stitching in post-production.  For the tripod, I personally have a travel tripod for hard to reach areas or, of course, traveling.  But, when possible a sturdy well-designed tripod should be used to ensure level shots all the way around.
And I also recomend a remote trigger.  It removes your hand from the camera, which like the tripod build quality, is all about ensuring a steady and level shot.
360 Photos on Facebook and Instagram
Above you will see two videos related to uploading 360 images to Facebook and/or Instagram.  The video to your left is strictly related to images taken with a mobile device then uploaded directly to Facebook.  The video on the right is the process I use here at ah360 for making 360 images and Virtual Tours something that can be shared across any social media channel you choose.
Both are very educational and demonstrate that 3d Virtual Tours and 360 images have evolved greatly in just the past few years.  As of 2018, you no longer are limited to an embedded link on a company website, you now have very high-quality images that are capable of being placed anywhere the average business or individual may need them to be.
Google Virtual Tours (Maps)
Google has actually been in the Virtual Tour game awhile now, first with their street view (Maps) application, then more recently with their ability to offer local businesses the opportunity to have customers virtually tour (Using 360 Photos) their location from home or any mobile device.  As you might expect, businesses in South Florida jumped on the Google 360 Tour Train Quickly!
Google Street View Photography (Google My Business)
Google My Business is an absolutely essential tool for any local business, and it's ability to add photos and 360 photography should not be taken lightly!
You are probably thinking…
"I have a website, what more can I get from Google My Business?  Two words = It's Google!
Working with ah360 Photography to enhance and draw out every last drop of power that a properly built GMB Listing is going to give you a distinct advantage over the competition, just look at a Map Pack Listing: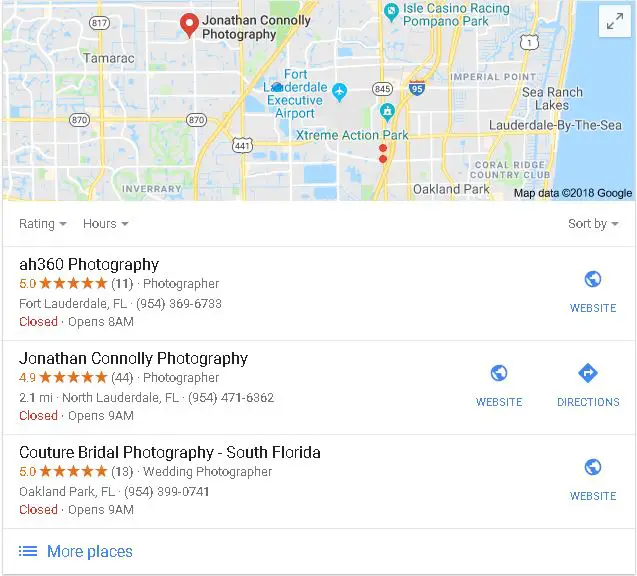 AH360 Related Photography Services
Aside from our 360 Photography and Video, we offer a wide variety of services.  Actually, we also use 360 Photos for almost all of our other services here as well.  Why not?  Some our other areas of expertise are:  
Let's keep it simple and straightforward!  Our Virtual Tour Pricing works like this:  
$200 for every 5 Images (Includes Editing And Tour)
Travel time additional if your location is significantly far from Fort Lauderdale (20+ Miles)
Editing time additional if you would like to create videos for Instagram, Twitter, or Direct Messaging
Other Locations Serviced In South Florida
We are proudly located In Fort Lauderdale, Florida offering a range of Professional Photography services covering other areas of South Florida Including but not limited to:
Lighthouse Point
Miami
Boca Raton
Palm Beach
Contact The Top 360 Photographers in South Florida today!
Contact the most budget friendly and value-focused Professional Photographer in Fort Lauderdale, Florida today and get your free consultation!
360 Virtual Tour Photos (Gallery Samples)