Take A Glimpse Of The All New Bertram Yachts 60 Foot Sportfishing Boat
Florida-based company
Bertram Yachts
recently announced the debut of its second new model under the ownership of Beniamino Gavio. The Bertram 61 is designed with the durability and quality of the original battlewagons, while utilizing the most advanced technologies and techniques, to build an exceptionally better Bertram. The new model sets new standards for Bertram and competitors in its class. Since its inception in Tampa, Fl., The Bertram Yachts Company has completed seventeen 35s, with delivery across North America, Puerto Rico, Japan, Italy, Bermuda, and Panama. The 61 prototype debuted in Fort Lauderdale this month, July 2018. To-date, reservations on hull numbers two through five have already been placed.  [Click On Image For 360 Video- Mobile Devices Require The YouTube App]
Bertram Yachts 61 Hull, Power, and Stability
The hull, designed by the great Michael Peters Yacht Design, is expected to provide top-of-the-line performance and speed featuring
twin CAT32s
, 1900-HP diesels. The famous
Seakeeper
16 gyro stabilizer unit will also be found in the engine room, just aft of the engines. Critical to providing comfort for trolling anglers and cruisers alike, the unit is projected to eliminate 95% of the boats roll. "Our boats are designed to handle the worst of conditions with ease. Nothing about that has changed. Standardizing the Seakeeper is just one of the advanced features we're adding to the boat, to take that next step into an unprecedented quality of sportfishing boats. If we've got a hull that can go through anything, we need to make sure our customers are comfortable when they get there – and it is a testament to how we take care of owners," -Tommy Thompson, VP Sales, and Product Development.
Bertram Yachts 61 Construction
Construction features an infused vinylester solid fiberglass hull bottom with Kevlar centerline and strake reinforcements. At full load, the projected displacement is 92,450 lbs.
Spacious Cockpit and Living Quarters aboard the 61 Bertram
The spacious
cockpit
allows anglers to maneuver quickly and seamlessly when the bite is on. The center console helm gives great visibility and affords a comfortable ride for more than just a couple passengers. The
exterior
is designed to take on the most rugged conditions, while the open salon-galley layout and full-beam master
stateroom
, are just a few of the features that make the interior one of luxury and comfort."In the spirit of Bertram's relaunch, the salon wraparound windows are actually another great blast-from-the-past but done now using modern technology and
virtually military grade glass
. These windows are amazing," says Thompson. "I can't wait for everyone to see the view from inside a 61 Bertram."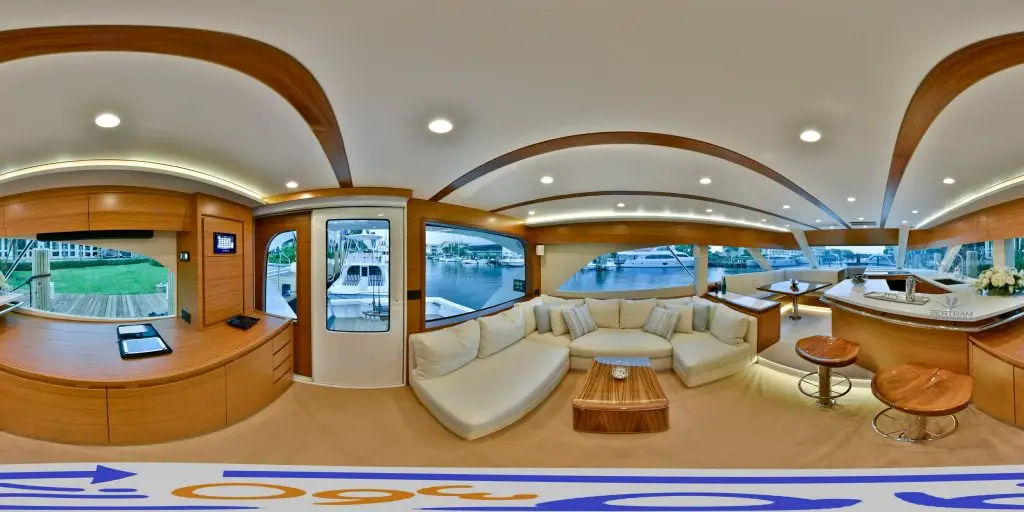 Bertram Yachts 61 Specs (Specifications)
LENGTH OVERALL (HULL) 61′ 1″

LENGTH AT WATERLINE 53′ 7″

DISPLACEMENT (APPROX. @ FULL-LOAD) 92,450 LBS

FRESHWATER CAPACITY 280 GAL

ENGINES 2X CAT C32 1900HP

Infused Vinyl ester Solid Glass hull bottom w/ Kevlar centerline and strake reinforcements, structural grid.
Bertram Yachts 360 Virtual Tour
Add Your Heading Text Here
Contact Us At AH360 Photography
I hope you have enjoyed our quick, yet still somewhat thorough review for the Bertram 61.  If you are looking for a professional photographer for your Yacht or Boat, please do not hesitate to contact AH360 photography as we create nothing but innovative attention-grabbing imagery for business and even personal use.  I look forward to speaking with you soon, and hopefully working with you soon after!